2030 Districts as a Movement
Joyce Lee
With the recent announcement of the 10th Established 2030 District, the wave of participating high performance 2030 Districts buildings in North America has reached new heights.
What are 2030 Districts?
Urban areas across the United States have begun forming 2030 Districts, led by the private sector using leveraged financing and shared resources to meet the energy, water, and vehicle emissions reduction targets set by the 2030 Challenge for Planning. A new business model emerges for urban sustainability. Together they benchmark, develop and implement creative strategies, best practices and verification methods for measuring progress towards a common goal.
The 2030 Districts are connected through a Network. The multi-purpose vision of the 2030 Districts Network is to onboard new cities to the 2030 District model, support peer exchange across Districts, store and share data, use the aggregate purchasing power of the District membership to secure reduced costs, create national partnership relationships, and influence policy making. Moreover, institutional investors and capital markets are looking at sustainability indicators to gauge asset performance and desirability.
Visionary Ed Mazria of Architecture 2030 started the 2030 movement back in 2003 to raise awareness among the mainstream building sector of its impact on the environment. The timeframe is particularly meaningful: many of the buildings in the 2030 Districts will have gone through several renewal, reconstruction and even transactional cycles during this period. The 2030 District goals for new buildings and major renovation are:
By 2015, 70% reduction in energy use below the national median (explained below);
By 2020, 80% reduction in energy use below the national median;
By 2025, 90% reduction in energy use below the national median;
By 2030, carbon neutral.
Along with these targets, 2030 Districts also have standards towards using renewable energy, and reducing energy, water and transportation emissions (CO2 equivalents) to help building owners and professionals to compile more meaningful data for managing assets and planning new projects. Existing buildings without major renovation, would strive for 50% energy reduction from the 2003 baseline.
"2030 Districts are creating a common language and shared vision around the economic and environmental benefits of resource efficiency."
"2030 Districts are creating a common language and shared vision around the economic and environmental benefits of resource efficiency. Property owners and managers understand these opportunities and are embracing a collaborative framework to leverage their individual efforts toward shared gains." Says Vincent Martinez, Director of Development and Operations for Architecture 2030, as well as the Interim Director of the 2030 Districts Network.
In 2007, Architecture 2030 (which introduced The 2030 Challenge) agreed with AIA, ASHRAE, IESNA, and USGBC (with support from U.S. Department of Energy) that the national 2030 Challenge energy baseline would be national median building energy consumption values based on 2003 Commercial Building Energy Consumption Survey (CBECS) data.
Leading districts such as Pittsburgh and Seattle have been trailblazers to showcase what committed collaborators can achieve together, making their communities more attractive to work and live with a lighter footprint. The sheer market forces of these benefits are driving the addition of another six Emerging 2030 Districts in the country.
Stamford 2030 District
Downtown Stamford in Fairfield County, while small compared to other districts, is unique in its proximity to a metropolis, New York City. Fairfield County hosts 29 headquarters of Fortune 1000 companies, 11 or which are in the Fortune 500 rank. The Stamford 2030 District is a partnership between the Business Council of Fairfield County and the Connecticut Fund for the Environment. This mix of business interest and environmental advocacy is a key factor to the fast-growing partnership.   To date, 67 member buildings have already signed up and a recent grant helped the District bring on board two full-time staff.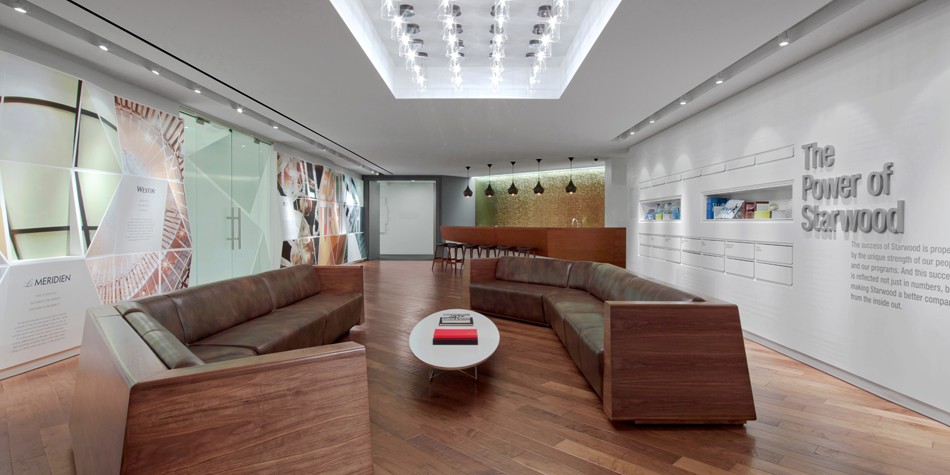 Connecticut electricity prices are among the highest in continental US. Stamford is positioned to spearhead energy benchmarking in the state, as it is the second largest energy market in New England after Boston. The timing also plays a factor as Stamford, a coastal city, is still recovering from Hurricane Sandy in 2012.   The Stamford 2030 District puts a special focus on resiliency as it ties directly to business continuity.
The density of world and regional headquarters in Stamford also provides an opportunity to share lessons learned by sheer market forces. The green building knowledge garnered through the Stamford 2030 District can be transferred far and wide through company internal policies and communications. A case in point is the Starwood Hotel Corporate Headquarters at 1 Star Point (LEED CI Platinum certified). Not only is the building poised to meet 2030 energy, water, and transportation standards readily using LEED submittal documentation, the headquarter staff is in a position to share sustainability practices among its worldwide resorts, office, and hospitality locations.
Most recently, the Stamford 2030 District convened a local constituency to work with IBM and AECOM, consultants to the United Nations Office of Disaster Risk Reduction (UNISDR), to be the first pilot to have completed a risk assessment from the UNISDR Resiliency Scorecard. Clearly stated in the Resiliency Scorecard assessment are categories in electricity, water and transportation and its infrastructure readiness in times of emergency. The Stamford 2030 District provides a vital network of owners, along with up-to-date facility information including energy and water usage, backup power, as well as employees' commuting patterns.
As Megan Saunders, Executive Director of Stamford 2030 District, emphasizes, "Resiliency is a critical issue in Stamford as a coastal city and it is directly tied to economic development which our funders saw early on. We're the first 2030 District to work on resiliency and have created a unique partnership with the City of Stamford in order to both mitigate and adapt to the effects of climate change."
Denver 2030 District
With 20 million square feet and growing, the Denver 2030 District just finished its first annual report documenting the district's progress and accomplishments among its 47 buildings. In addition to the City of Denver, the Downtown Denver Partnership and the local USGBC chapters are critical stakeholders.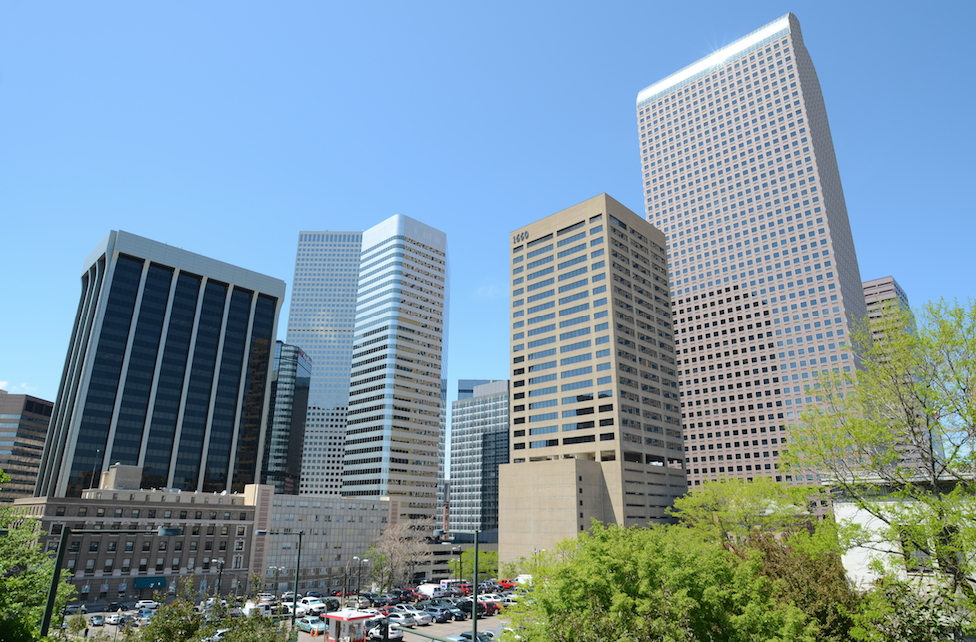 The partnership, privately led and publicly supported, shares a vision of the future where high performance buildings are the foundation for economic vitality. As there is no current national water baseline, the Denver 2030 District was also proactive in working with its water utility, Denver Water, to establish their own baseline based on 2010 and 2011 usage. The transportation reduction goals are developed in conjunction with the Downtown Denver Partnership using the data from their 2013 commuter survey to baseline future transportation carbon reductions.
In GBIG, one of the participating buildings, the Alliance Center, created a comprehensive profile in this searchable database.   According to the Denver 2030 District's annual report, this building has already exceeded 2030 energy targets (54% versus 50% energy reduction).
To date, Denver has been ahead of its 2015 target as a district in energy and water performance. Coupled with future new construction possibly accelerating the pace of improvement, this Rocky Mountain city is poised to showcase the economic benefits resulting from marching beyond 2030 District milestones.
"As the largest city in the intercontinental west, Denver's natural resources are both a huge asset and a limiting factor. With record population growth in Denver – due in large part to its strong economy and tremendous outdoor opportunities – despite a multi-year drought in the Southwest United States, a common question is how long the water will last. Denver 2030 District is working hard with building owners and Denver Water to develop and deploy innovative strategies that conserve water while encouraging continued economic development," says Adam Knoff, Board Chair of Denver 2030 District.
Why GBIG 2030 Collections?
The focus on building performance recognition as well as its built-in capability to create "Collections" presents the possibility for a unique partnership between 2030 Districts and the GBIG database. As young, nimble programs, 2030 Districts and GBIG are at a point in their development to build on each other's success and audience.
GBIG started as a platform to track (and map) the distribution of LEED projects around the world, and has since expanded to include data on more than 200 domestic and international certification, award, case study, and energy benchmarking programs.  By tracking such a wide variety of green building activity, GBIG is able to construct timelines that describe a building's participation in green programs over time. This is unique because it is, in some ways, an attempt to reframe the definition of a 'green building.' No longer should a single certification serve to define a building as green; rather multiple lines of evidence pointing in the same direction (such as LEED + Energy Star + 2030 District participation) over time paint a fuller picture of a building's sustainability achievement in multiple dimensions.
Naturally, a number of green buildings in the 2030 Districts have been "tagged" already because of past Energy Star and LEED activities.  Now as a participating 2030 District building, owners and their consultants can easily browse through the GBIG map and view neighboring buildings in and out of the district with ease.  GBIG has also begun creating collections of buildings participating in the 2030 program, starting withPittsburgh 2030 District property partners, and will be expanding to include additional Established Districts over the coming months.
New upcoming features include the ability to upload photos and articles about the building itself, while logged in users can already associate themselves with the buildings they have worked on, highlighting their contribution to making the structure high performance.  The goal here, of course, is to help celebrate the people, products, and organizations that contribute to the creation of outstanding green buildings.
"The rapid growth of the 2030 Districts illustrates the value of a private-sector-led collaborative approach to transform the urban core of cities and meet impressive emissions reduction targets. Each new District deepens the experiences and best practices that can be shared across the 2030 Districts Network, and GBIG features will help support this effort, especially for Emerging Districts," says Ed Mazria Founder of Architecture 2030 and the father of the movement.