The Delaware Valley Green Building Council (DVGBC) is working hard to advance sustainable building in a holistic and all-inclusive manner in the Philadelphia region. The DVGBC recently hosted The 2017 Sustainability Symposium,  a sold-out event, which was attended by the design community as well as a good cross-section of the public. The symposium, comprised of educational sessions, covered the latest in green building and industry best practices including LEED, Passive House, Living Building Challenge, Enterprise, WELL, green stormwater infrastructure, and 2030 Districts.
To achieve a truly sustainable built environment, organizations such as the DVGBC are driving the green building movement in local communities across the country. The DVGBC is working diligently to get everyone (from property owners, developers to the end-users/occupants) on board, provide forums in which to share best practices, and promote the importance of green building and sustainability with programs such as the Sustainability Symposium. At the same time, it is important to educate the next generation of green building enthusiasts to carry the sustainable building torch.
PRISM was given the opportunity to ask Katie Bartolotta, Policy and Program Manager, Delaware Valley Green Building Council, questions about their current green buildings programs as well as their goals to further sustainability in the built environment in this region.
Katie Bartolotta leads the Delaware Valley Green Building Council's local, state, and federal policy and advocacy efforts. In addition, she coordinates DVGBC's strategic initiatives including the Philadelphia 2030 District and the Delaware Pathways to Green Schools Program.
Emma Kapp: Philadelphia is a recent member of the 2030 Districts. The Delaware Valley Green Building Council's "Advancing green building: A policy framework for Philadelphia's built environment" outlines four areas in which buildings can achieve sustainable outcomes. The third area "Promote above-code building standards and practices, especially where it connects to affordability and improved health outcomes" outlines specific building initiatives such as Passive House, WELL Building Standards, etc. How are you working with these organizations?
Katie Bartolotta:  Delaware Valley Green Building Council is striving to be more inclusive and accessible by approaching green building holistically instead of through the lens of a specific market sector or building standard. We believe no single building standard or practice has a monopoly on good ideas and it is our role to build up the overall strength of the green building movement to address the scale of the environmental problems in this region and beyond. In this manner, we work to capture the interest and expertise around various building certifications and standards, which is why we offer monthly educational programming on multiple certifications and standards in coordination with expert green building practitioners.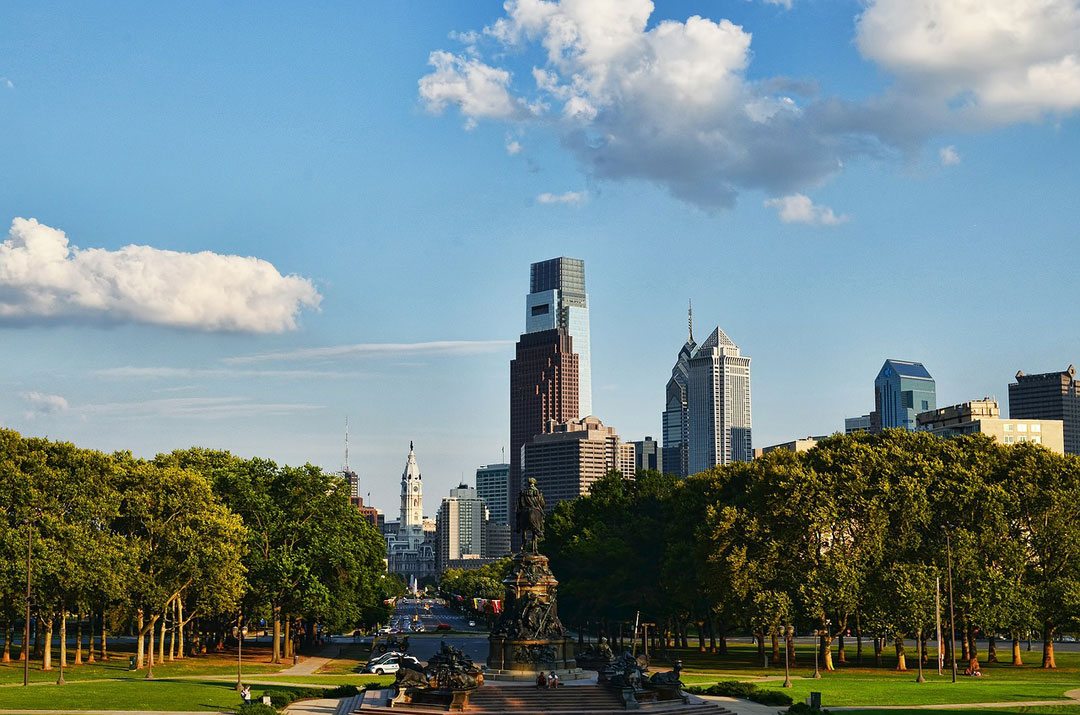 EK: What green building projects are currently underway and how are these projects helping Philadelphia 2030 District reach its goals?
KB:  We do not have any new construction signed up for the Philadelphia 2030 District as of yet; however, one of the district's early adopters, 1650 Arch Street, is an existing building that used certifications and rating systems to guide its retrofit efforts. As a result, the building achieved LEED Gold Certification under the O+M rating systems, LEED Platinum Certification under the ID+C Commercial Interiors System as well as ENERGY STAR certification. This example is particularly relevant to the goals of the Philadelphia 2030 District because existing buildings present a great opportunity to reduce carbon emissions and improve the health and well-being of building occupants, since existing buildings account for 60 percent of Philadelphia's carbon emissions.
Additionally, one of the primary goals of the Philadelphia 2030 District is to create a community of practice for building owners and managers who are able to share ideas, best practices and challenges in order to learn from one another. District participants like 1650 Arch can share information surrounding the retrofit of the building, including the decision making process, cost-benefit analysis, and tenant demand to educate other building and design leaders who are considering making improvements.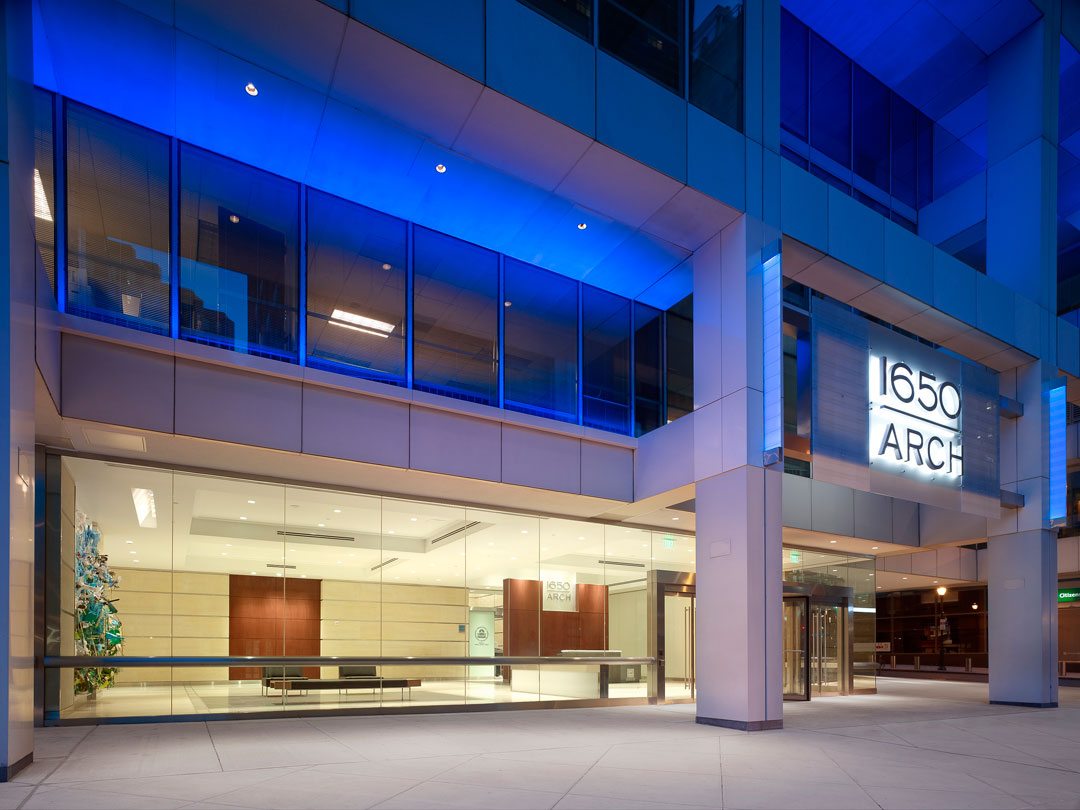 1650 Arch Street project. Photo Credit: Meyer Design/Don Pearse Photographers
EK: How are healthcare institutions such as the Children's Hospital of Philadelphia (CHOP) included in the planning? What are the goals for healthcare facilities?
KB: Healthcare is a very important sector for the green building movement because these facilities tend to have high energy intensity since they house patients and run equipment 24 hours a day, seven days a week. Additionally, due to the number of healthcare facilities and hospitals in Philadelphia, including CHOP, Thomas Jefferson and Wills Eye Hospital, to name a few, the healthcare sector plays a large role in Philadelphia's overall economy and presents a strong opportunity for sustainable improvement.
As a result, healthcare leaders, like the Philadelphia Ronald McDonald House, have already signed onto the Philadelphia 2030 District to cut down on operating costs by reducing energy consumption. Thus far, the facility has already replaced the building's lighting with incandescent lights, causing the building's electricity to drop by about 10 percent; reprogrammed the thermostat and adjusted the boiler to maximize its cycle and reduced natural gas consumption by about 10 percent. For every dollar they save on operational costs, Ronald McDonald House reinvests this money in the organization's mission of supporting families of seriously ill children.
Like all participants in the Philadelphia 2030 District, healthcare facilities' energy use reduction goals are evaluated against similar building types. The district strives to provide resources, guidance, and examples for building types that align with their specific use cases and occupant needs. To specifically address the energy savings potential in this sector, DVGBC hosts an annual half-day summit on sustainable buildings in healthcare and higher education and how sustainability fuels their growth. Last year's summit brought together healthcare experts to discuss ways to improve patient outcomes through overall design and material selection.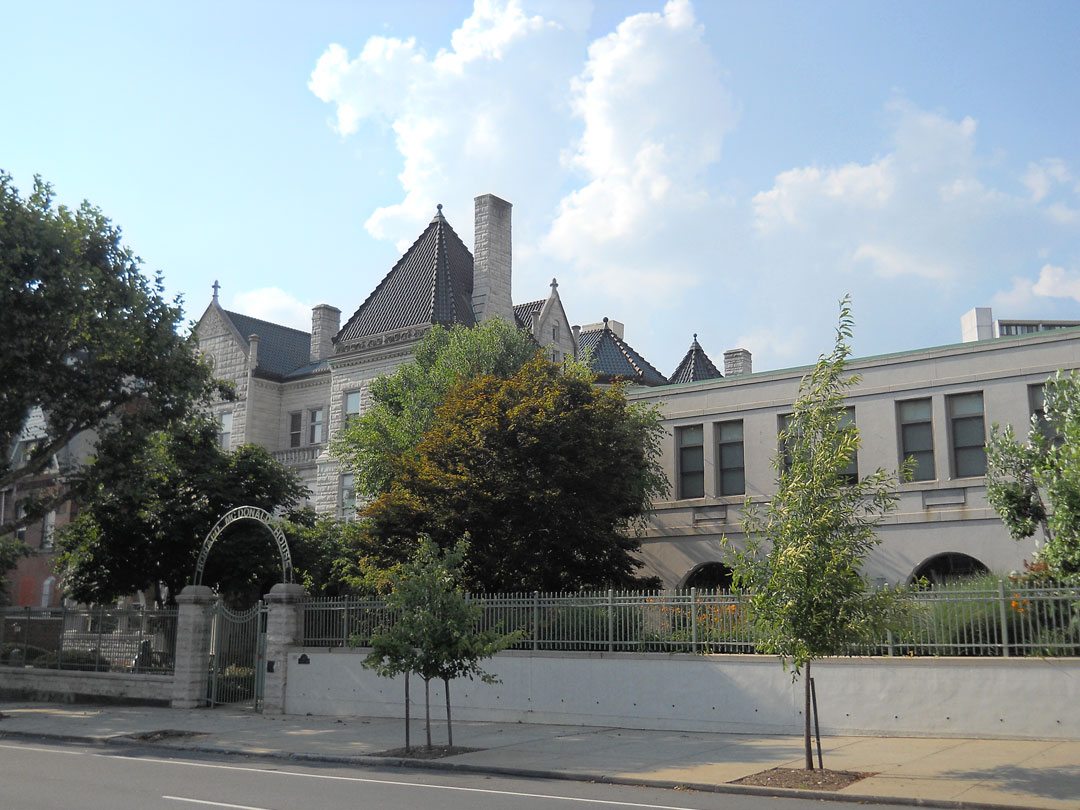 Philadelphia Ronald McDonald House, Chestnut St, West Philadephia. By Shuvaev (Own work) [CC BY-SA 3.0 (http://creativecommons.org/licenses/by-sa/3.0)], via Wikimedia Commons
EK: Stormwater management is another important area for the Philadelphia 2030 District. The PECO building was an early adopter with the installation of a green roof. Are there any incentives for green roof construction to help with stormwater management as well as reuse of water? Could you give a few examples of buildings that are partaking in these stormwater management efforts?
KB: Nearly 80 percent of Philadelphia Water Department's (PWD) greened acres are on privately developed land, making it imperative for PWD to work closely with private developers to reach its goals under Green City, Clean Waters, its consent decree with the Environmental Protection Agency. To incentivize private developers, the City has a green roof tax credit in-place which provides businesses with a 50 percent rebate for green roof costs up to $100,000. Green roofs that are constructed to comply with the City's stormwater regulations are still eligible for the green roof tax credit.
Along with PECO, which took advantage of the green roof tax credit, other organizations, including UPenn Law School and the Philadelphia Zoo's KidZooU, are following suit. KidZooU has two 3,000-gallon cisterns that capture runoff from the roof areas for reuse in flushing toilets in the refurbished pachyderm building and in the newly constructed restroom building. This project was featured in our GSI Precedent Library, created in partnership with other non-profit organizations and industry professionals, to promote green and innovative stormwater management projects in Philadelphia.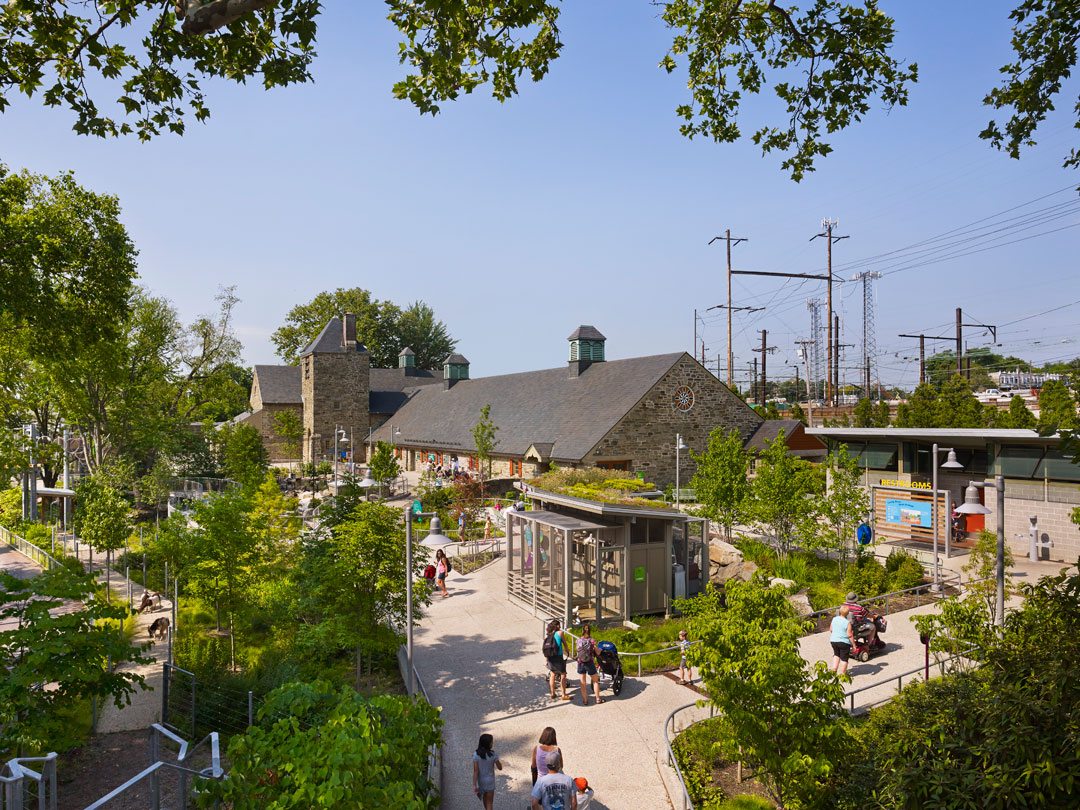 KidZooU project. Credit: Halkin Mason
EK: The 2017 Sustainability Symposium was a sold-out event. What surprised you the most about the attendee demographics?  What are your next steps in advancing green building in the Philadelphia 2030 District?
KB:  The Sustainability Symposium is always attended by a broad-based audience with representatives from the design community as well as engineers and sustainable materials experts. It's exciting to bring these green building experts together in one place. This past year, we encouraged active participation from the next generation of sustainability leaders. For example, our members sponsored 12 students from Carver High School to attend the Symposium, and we had a large number of volunteers and attendees from area colleges, including Philadelphia University, University of Pennsylvania and Rowan University.
In terms of advancing green building in the Philadelphia 2030 District, we are gearing up for the official launch of the program in October. We currently have 9.5 million square feet signed on and want to reach 10 million square feet. The launch will present the perfect opportunity to discuss private-public partnerships in the context of what cities are doing to combat climate change.
This article originally appeared in PRISM.