Company Logo:
The City of Cincinnati's Office of Environment and Sustainability (OES) is working with the Cincinnati 2030 District to increase knowledge of and prepare our market for broad-based electric vehicle (EV) adoption. 
EV Cincy is providing interested stakeholders with several resources to assist in scaling charging infrastructure including:
Commercial buildings interested in scaling workplace charging infrastructure are encouraged to complete the 2030 Workplace Charging Awareness & Readiness Survey. 
Looking for information on grant opportunities for EV charging? Contact EV Cincy today evcincy@gmail.com.
Already have an EV? Apply and take advantage of the Free Parking for All-Electric Vehicles program offered by the City.
Free EV Parking Permit Contact - Robin Henderson
Phone - (513) 352-5340 
Brownfield redevelopment allows our City to reclaim and improve its lands, making previously developed property viable for new development.  The City of Cincinnati is committed to taking a proactive approach to the redevelopment and revitalization of Cincinnati's brownfield properties. OES does not maintain an inventory of City brownfield sites, but our office can offer insight for inquiries on possible brownfield properties and potential resources to redevelop them.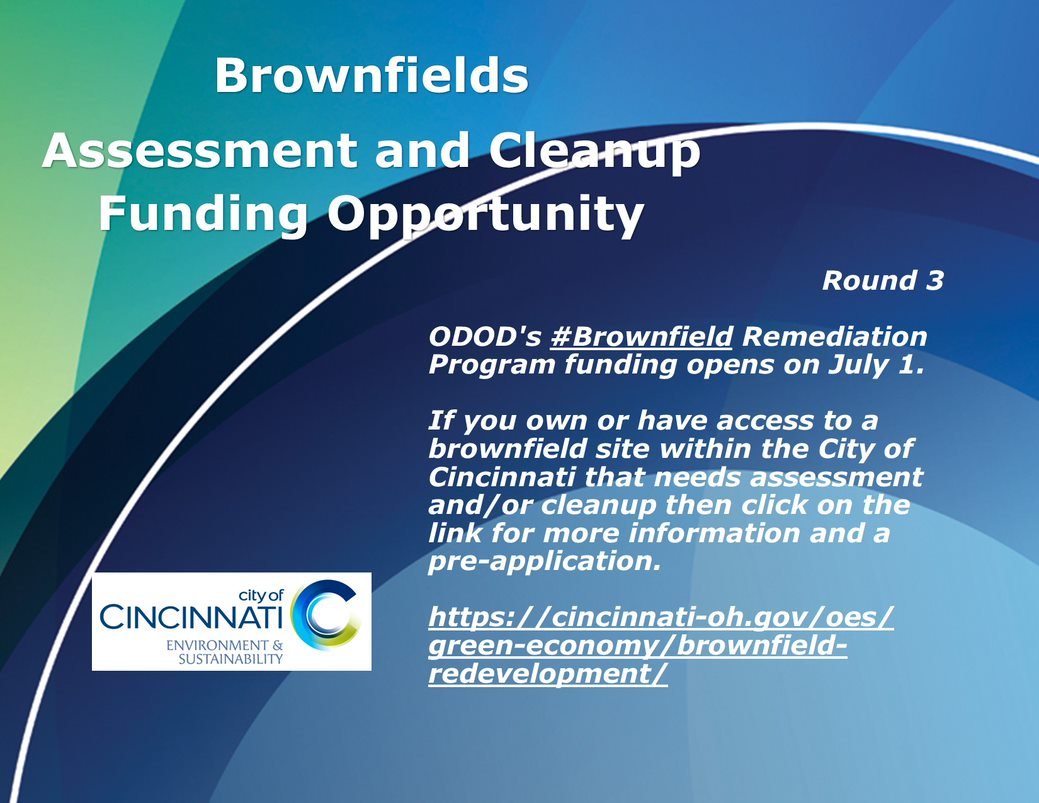 City Brownfield Program Pre-Application
Brownfield Redevelopment Contact - Howard Miller
Phone - 513-352-6999